The Ouachita Center is a multi-purpose facility that can accommodate various set-ups for a host of events.
The Ouachita Center features over 6,000 sq. feet of meeting and event space in the Carver Grand Hall. Break-out rooms can be sectioned individually on the east and west wings of the Carver Grand Hall space to provide up to six individual conference meeting rooms, each providing 532 sq. ft. per room. Each wing can also be opened to accommodate the space of three conference rooms, up to 1596 sq. ft.
For event set-ups, our staff will need to secure a floor plan of your event needs in advance for set up of tables, chairs, and AV equipment. Floor plans must be finalized 30 days in advance of event date.
A wireless WIFI network is available throughout the Ouachita Center by request. The wireless network provides internet connectivity to devices using the 802.11a,b,g, and n standards with covers the vast majority of phones, tablets, and laptop computers. Currently, the 802.11ac standard is not supported.
Wired network drops up to 1Gb/s are available and are recommended for any type of media streaming. Wired connections must be requested when reservations are made for an event. Ouachita Center technical staff will configure the connection based on the customer's needs. Note that while individual network drops operate at 1Gb/s, connectivity to the Internet is at lower rate, typically 100Mb/s depending on the network traffic load across the campus. Direct fiber connections are not available at this time.
Floor plan options to consider when planning your event:
Click on the images to view floor plans.

Carver Grand Hall
Competition or Break Out Rooms
---
Carver Grand Hall Interior
Banquet Seating
---
Carver Grand Hall Interior
Theatre Seating

---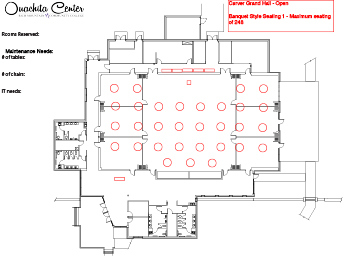 Carver Grand Hall Open
Banquet Style Seating 1
---
Carver Grand Hall Open
Banquet Seating 2
---
Carver Grand Hall Open
Banquet w/food West Wing

---
East Wing
Horseshoe
---
East Wing
Lecture Style
---
Eisele and First National Bank
Conference Rooms
---
Eisele Conference Room
Small Classroom Style
---
West Wing
Large Classroom Style
---

Contact Community Relations to schedule a tour of the facility to discuss your event logistincs plan:
Phone Contact: (479) 394-7622 Ext. 1471 or 1472.